What are luggage straps for? Luggage straps have several uses, but their main purpose is to keep your luggage closed and secure. Typically they come in either a belt style or a bungee style, but they are all made from durable materials so they can withstand the tests of travel. For additional security, some straps include a buckle or lock, such as a combination lock , scale luggage strap and TSA lock luggage straps. Many companies also custom luggage straps with logo for business event.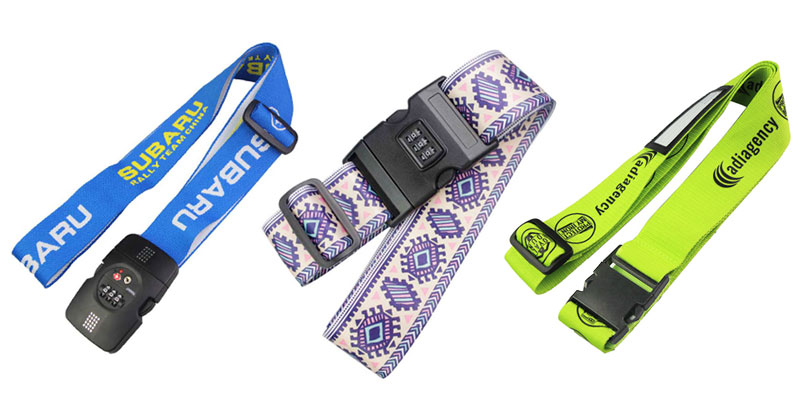 Straps can be used on one more multiple bags. Some styles allow you to cinch several bags together which not only keeps all your bags secure, but also allows you to easily wheel groups of bags through the airport.
While security is their main purpose, luggage straps can also be used as luggage identifiers. Nothing is worse than the feeling you get when you realize you can't identify your black or gray luggage in the sea of other black or gray luggage on the carousel. A brightly colored luggage strap can be a quick indicator of which luggage is yours.
What Are Luggage Straps For Use?
Offering a way to secure your luggage, this quick-release luggage strap helps prevent the contents of your luggage from falling out while in transit. Especially if you have an older suitcase, a bag with missing or low quality zippers, or a piece of luggage that is bursting at the seams, this strap can be indispensable.
If nothing else, you can take it along in case your zippers do break. With the amount of abuse that suitcases have to endure being loaded on and off airplanes, buses, cruise ships, etc. there's even more of a chance that it could break open.
Similarly, if you want to carry on your bag, you can use this as a compression tool so your bag fits in the overhead compartment of the airplane. With the ability to be adjusted up to 81″, it fits a variety of luggage so you can use it with virtually any of your bags.
The multiple colors allow you to decide whether you want the belt to blend in with your luggage or make it stand out. The rainbow, blue, and red colors will definitely make it easier to identify your belongings on the baggage carousel.