Enjoying a walk in the park with your dog obediently at your heels is a dream activity of many pet owners. But What Is The Best Dog Leash? Whether it is for training purposes or even to help you control your mutt while you're taking a stroll down the street,at the park, or even in your neighborhood, it is crucial that you use only the most appropriate lead for your dog. Fortunately, we have prepared some of the things that should help you find the best lead for your pet.
Heavy Duty Nylon Dog Leash by Renshenggifts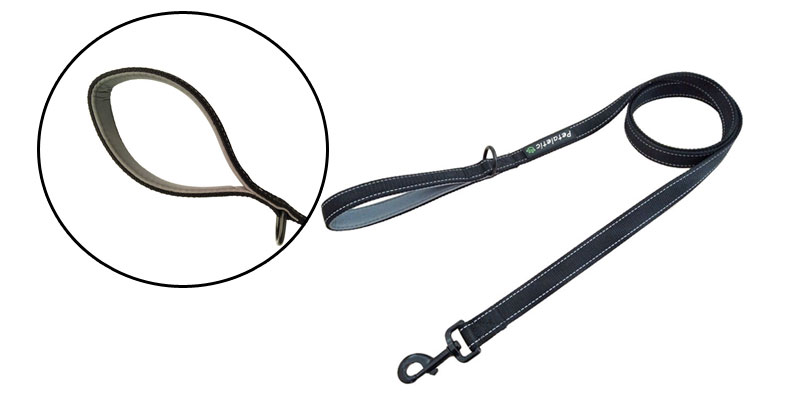 Boasting of a thicker dog leash rope and cushioned neoprene handles located, this style Nylon Dog Leash is one amazing tool for training or even for simply walking with your dog. It comes with reflective stitching to increase the leash's visibility in the dark as well as dimly lit environments. Should you decide to run or jog in the evening, others will definitely see you and your pooch. Renshenggifts nylon dog leash rope is about 3 millimeters thick and comes in at a width of about an inch. The webbed nylon construction gives it exceptional sturdiness and weather resistance.
Nylon Dog Leash is an unpretentious dog leash rope that is available in various sizes at friendlier prices. The color can be custom and 3 different widths across 4- and 6- foot lengths. For training and safety purposes you can always choose the 4 feet variant. And if you have a small dog with you getting the 3/8-inch wide model should be quite handy. The 1-inch wide variants are perfect for medium sized breeds. The cord is made of durable nylon yet has a certain softness that will not hurt your hands. It comes with an easily clippable hook.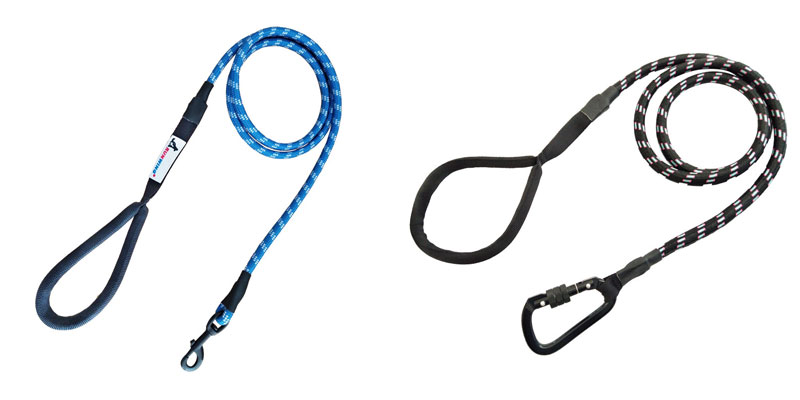 Made of lightweight yet super strong rope that is often used by mountain climbers, Our Strong Chew Resistant Reflective Dog Leash Rope is a great tool for training and even simple walking of your pooch. It is sturdy enough to withstand even the strongest bite of that can be used even for extra-large breeds of pooches like Saint Bernards and Great Danes. Cord is actually embedded with reflective material, making it glow in low light conditions, making it the perfect tool to have when you do decide to take a walk or run with your dog in the middle of the night. Designed to absorb shocks while its handle has been fully padded for more comfortable grip. The clip hook at the end of the 4- or 6- foot long mountaineer's rope is made of heavy duty materials so it won't be letting go of your pooch.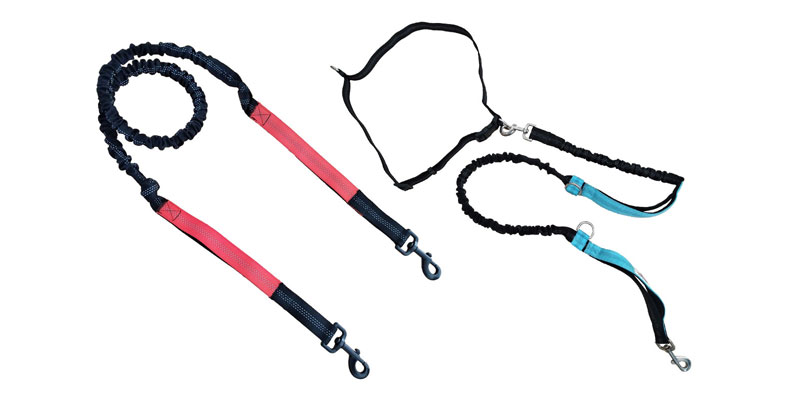 As with biking, runners and joggers can't be impeded by normal leashes. Your exercise routine is just as important as your dog's, but if a bike isn't involved, this option will work for you. Designed as a belt, the leash portion glides on a clip to provide more ease of motion both you and your dog. The leash portion itself is 48 inches and includes a bungee that extends to 60 inches, giving you even more flexibility. The design of this model is entirely focused on letting you and your dog keep in stride for the duration of the outing.
Available in green and gray, coral and gray, and gray and blue, this leash features three seams of reflective material, which adds to a runner's visibility as much as the dog's. The belt portion is adjustable to a 42 inch waist.
What Is The Best Dog Leash?
Different types of dogs have different traction ropes to match, depending on your use, such as walking, running, training, cycling or on-board.
Choose the type of cord you may want
Canine leads typically come in three fundamental types. In fact, each one will have a slightly different purpose and will often come with distinct advantages over the other types. That being said, it is critical to choose the type of lead that your canine will need based on what you really want to do.
Standard Dog Leash
Standard canine leashes are what you can call your run-of-the-mill type of leads. Depending on their length, these can provide exceptional control if you choose the shorter length cords of sufficient freedom for the canine to roam and explore its immediate surroundings. The reason for the greater control is in the straightforwardness of the design. they feature no retracting mechanisms and can come in braided or solid designs that typically range from 4 to 8 feet.
Retractable Dog Leash
This type of lead is quite controversial since a lot of experts do not recommend its use. Unfortunately, despite professional warnings, retractable dog leashes remain a very popular choice among dog owners because it gives them the chance to really lengthen the cord to a considerable degree that the pooch is granted greater freedom of movement. Considering that there are products that can be extended up to 26 feet, it sure is a great way to allow canines to wander without the constant interference of their masters.
Unfortunately, this is where the problem lies. Because of the greater distance between the dog and its human master, the degree of control exerted by the human greatly diminishes with each extension of the cord. If the pooch suddenly bolts because it saw a raccoon or a squirrel, the lengthy cord can easily snap or it can even injure the pet. Of course, the only way to reestablish control is to shorten the length of the cord. In this case, you'd be better off with a standard dog leash.
This is not to say that retractable leads are not useful. In fact, they are quite beneficial if you have a pet that is well-behaved and is properly trained on the leash. Additionally, if you can honestly tell yourself that you're more comfortable giving your pooch more lead-room, then the retractable is for you.
Adjustable Dog Leash
These types of leads marry the controllability of standard leads with the flexibility of retractable leads. These typically range between 3 feet and 6 feet and the length can be either increased or decreased simply by adding or removing clips or loops, respectively, along with the length of the cord. Additionally, this can come in handy especially for those who love the controllability of standards which is particularly useful in training. And when they go out for a walk, they can easily add links or loops to the cord length and they already have a longer lead.
Understand the different materials used.
Once you have identified the type of lead you would want for your pooch, it's time to decide on the materials that you would like the lead to be made of. Currently, there are 3 types of materials that provide strength and durability in dog leashes.
Leather Dog Leash
This is a very durable material and is largely regarded as one of the most comfortable to hold. However, they are quite expensive, and may require some degree of maintenance to maintain its quality. While it is not really resistant to chewing, leather can stand up to the test of time if cared for properly.
Nylon Dog Leash
A very popular material, nylon provides durability at a cost that is friendlier than leather. These are weather resistant, too. Sadly, they tend to create friction, especially when tugged by dogs. They are also not as resistant against chewing.
Chain Dog Leash
If you've got a tenacious chewer, then getting a metal dog leash is for you. The drawback, of coures, is that these tend to be on the heavy side. Choosing the right size of the metal chain that is appropriate for your pooch should be your primary consideration.