Retractable card holder: Carry your card while keeping it conveniently within reach
Badge reels, also known as Retractable badge reel, If you're looking for a great retractable ID which automatically returns to the reel after use, or you need to show your badge for school, work entry, meetings, seminars or conventions, retractable card holder is the perfect high-quality reel for you. Is one of the most popular methods of carrying an ID card, and for good reason: they offer card-carrying convenience while keeping a card easily accessible for scanning or swiping.
Badge reels come in a variety of shapes and sizes, but their basic design is the same: a plastic or metal housing contains a reel and a curled-up wire, which has some kind of card attachment on the end. When you pull on the wire, it extends (usually up to 3 feet); when you let it go, it snaps back into place, remaining snugly held up against the reel housing.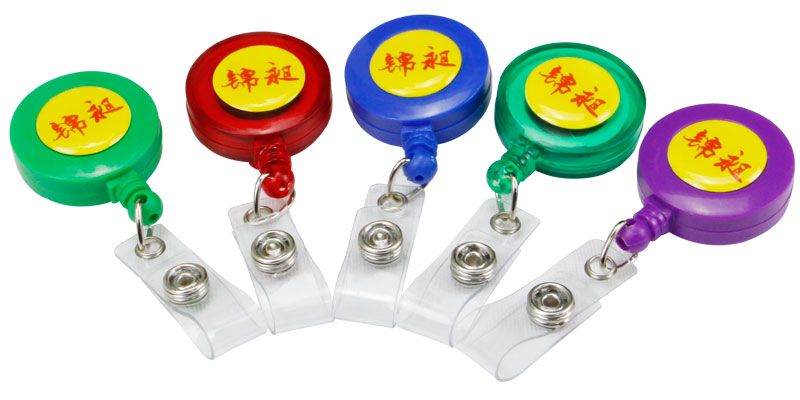 Which style retractable card holder do you need? Standard or Customize?
Standard retractable card holders: These are just plain ol' reels, with no custom print. Standard badge reels are easy to purchase,and fast delivery for large order. You can choose from colored badge reels, metallic badge reels, carabiner clip badge reels and more — there are nearly 100 varieties! Many of these badge reels are made in our own factories, meaning we're able to ensure quality from start to finish.
Custom retractable card holder One of the reasons retractable card holders are so popular as a card-carrying accessory is that they offer a great opportunity for custom branding. The face of the retractable card holder is a great place to add a logo, graphic, line of text or other custom imagery. Custom retractable card holders are great for basic use around the office, but can also be used as giveaway items or brand enhancement tools. We offer various different types of custom retractable card holder, and you will easy to get them at Rensheng. You only tell us your style, color and logo!