Where Can You Buy Lanyards For Your Events? In today's high security environment that requires so many workers, students and staff members to carry a badge to enter their schools and places of business, lanyards and ID Badge Holders are almost a requirement. Custom printed lanyards made just for you is one way to add a little flair to your badge.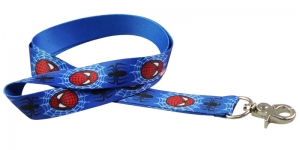 Where can you buy lanyards? Maybe Renshenggifts is your idea choice!
We know there are a lot of places offering to customize your own lanyards on the market, so why should you pick us over all the rest? Renshenggifts has been designing and manufacturing personalized lanyards for various types of business, associations and other organisations throughout the world.We can supply you with custom lanyards, cool lanyards printed in a variety of materials, along with name badge holders, badge reels and badge clips in a vast array of assorted colors with personalized logo and text printed or sewn into the lanyard material. There are no setup fees or dye charges. To help enhance the image of your company, Custom Lanyard can supply you with a wide variety of products in many different styles and colors according to meet your exact specification. Renshenggifts are the China leading manufacturer of cool lanyards, id holders, badge reels, name and id badge holders, badge clips and breakaway lanyards. Cool customized lanyards are a simple and affordable way to increase awareness for your brand, service, business or good cause. You'll get comfort, safety and excellent branding opportunities with our durable lanyards! We use premium eco-friendly materials such as polyester, tubular knit and anti-microbial. Pair your custom lanyards with all kinds of attachments, such as J-hooks, bulldog clips and key rings in silver and black finishes. We also provide oarious size of ID badge holders.
So, before considering your next order of custom made lanyards, please consider Shundinggifts.com.